MediSolution at the core of innovation
April 18, 2018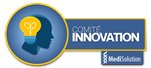 Competitiveness and success in 2018 are strongly intertwined with a company's investment in innovation. This is why MediSolution created an innovation committee that is organizing the very first Hackathon on April 26th.
So what exactly is a hackathon?
The term hackathon is a blend of the words "hacker" and "marathon". This unique activity consists of developing an innovative project over a period of two consecutive days at most. Participants are invited to come alone or in a mixed group and use their talents to create a prototype product or service that will then be presented to a panel of judges.
What are the expected outcomes?
One of the biggest outcomes of a hackathon is to provide a platform for creativity while breaking new ground and getting away from the daily routine. Multidisciplinary teams will have the opportunity to network and participate in constructive confrontations. The most interesting ideas will become initiatives driven by the innovation committee. They could be marketed to our clients as a product, as a service proposal or simply as an improvement to our current solutions.
In the coming weeks, we will post pictures taken during the event and we will certainly be able to reveal a few highlights.
Follow us on the different social platforms using the following hashtag:
#hackathonMS2018