Virtuo MIS - New update available!
December 3, 2018
by Feryal Badili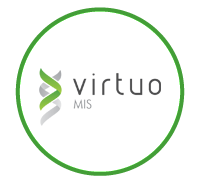 MediSolution announces Virtuo MIS Build 2018.2. The second update in 2018 for Virtuo MIS includes more than 20 new features and enhancements to the Human Capital Management, Accounts Receivable, Financial Management, DiscoveryXL, and Materials Management suites and modules. Notable updates include the ability to filter OHIP claims by service date (Accounts Receivable), a new Benefits Grid (Human Capital Management), new wizards (DiscoveryXL), updates on Purchase Orders (Supply Chain Management) and many more. See the following list for a detailed overview of the new update.
More than 20 new features and enhancements!
New Benefits Grid
Retro Calculations
Retro Calculations have been enhanced. Reactivation for terminated employees or selection of specific employees is no longer needed.
Personal Information Screen
Added a 3rd gender option
New Mass Adjustment feature
OHIP Claims
Added ability to filter OHIP claims by service date
Work Queues
New option for the Work Queues interface so that non-billable charges can be deleted overnight
Enhancements in Reports and Validations
Enhancements in Invoice Reconciliation
EFT Reporting
The Bank Code and Purchase Order (PO) numbers have been added to the EFT Report in EFT Documents
The Purchase Order (PO) number has been added to the Email Remittances sent out to vendors
General Ledger
The General Ledger Trial Balance Report can now be exported to Excel with the report header appearing only on the first page
Continuity Schedule Detail
Asset description was added to the Continuity Schedule Detail View
Asset Management Reports Module
Project by Asset report was added to the module
New DV Formula and Wizard utilizing Department Codes
This will allow users to create reports using a combination of departments and secondary codes.
Add Detail Wizard
Added account group levels to the search and field selection options
Accounts Receivable
A new drilldown to the AR activity is now available. The drilldown now shows all of the tabs from AR Activities
Year to Date values
Added drilldown to the Year to Date values. When a user selects a year to date formula and drills, they will be able to see all entries from the beginning of the fiscal year to the current period
System PO
System PO recommendations now have a permanent database table. Allowing for an audit of System PO changes
EDI
All EDI documents are now replicated to their own local SQL database tables allowing for quicker access to the EDI data
Purchase Orders
All Purchase Orders are now Single Site only allowing for better matching of purchase orders, receiving reports and invoices
Added a drag and drop method to attaching documents to the PO Documents tab
When viewing an Open PO, the Reopen PO icon will change to Close PO. It will remain as Reopen PO when viewing Closed POs
Click on the link below to learn more about Virtuo MIS and request a demo.