The Virtuo MIS Financial Management Suite gets a new updated web page!
December 17, 2018
The web pages for Virtuo MIS Financial Management Suite, a set of applications developed to provide a complete and efficient financial management solution to organizations of all sizes, have a fresh new look!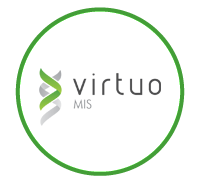 Virtuo MIS Financial Management Suite is a software solution comprised by dedicated applications and modules for General Ledger, Accounts Payable, and Asset Management. Virtuo MIS FMS provides solid business-process logic and cutting-edge functionality for organizations that wish to efficiently control expenses, and optimize cash flow.
The updated pages on medisolution.com provide an in-depth overview of the solution's functionality as well as detailed descriptions on its modules' features and advantages.

An updated overview on MediSolution's dedicated suite for Financial Management

An in-depth look on the General Ledger module and its advantages on gathering information from across all suites to help you create, import, and report financial and statistical data.

A vital component of the Virtuo MIS Financial Management Suite, Virtuo MIS Accounts Payable is a powerful and easy-to-use tool that thoughtfully automates accounts payable procedures. The new page provides a detailed description of what it does.

Virtuo MIS Asset Management fully automates the management of fixed assets (depreciable and non-depreciable; capital and non-capital) through the complete asset lifecycle - from acquisition to disposal - to reduce manual effort and increase efficiency.
Click on the link below to learn more about Virtuo MIS and request a demo.