Virtuo MIS Asset Management - New user guides for version 2018.2
January 24, 2019
New user guides for Virtuo MIS Asset Management 2018.2
by Jodi Baldwin
The user guides for the 2018.2 build of the Virtuo MIS FMS Asset Management module are now available through the Medi360 portal!
To download the files log-in to the Medi360 portal.
From the Downloads  menu, choose User Guides.

Under Suite, choose MIS Financial Management, and click on Apply Filter.

Click on the title of the file you want to download to open its Download Details page. From there, click on the file name (e.g. AM Reports User Guide December 2018.pdf) to download the guide.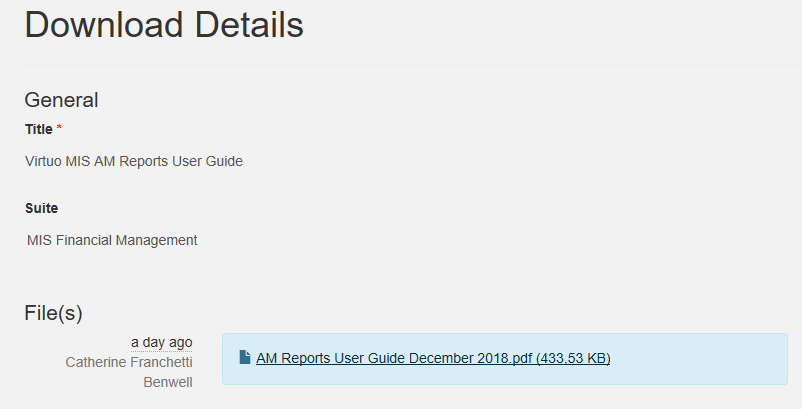 NOTE: User Guides for all other Virtuo MIS Finance Management modules may also be found in the Downloads section of the Medi360 portal !


About Virtuo MIS Financial Management Asset Management 

Virtuo MIS Asset Management fully automates the management of fixed assets (depreciable and non-depreciable; capital and non-capital) through the complete asset lifecycle - from acquisition to disposal - to reduce manual effort and increase efficiency.
Fully automated, intuitive, table-driven accounting enables non-accounting staff to manage your assets, while the accounting and required journal entries are automated for each asset.
Click on the link below to learn more about Virtuo MIS and request a demo.

Contact Us