Virtuo MIS 2019.1 is now available!
June 12, 2019
by Catherine Franchetti Benwell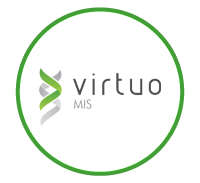 MediSolution is pleased to announce that Virtuo MIS Build 2019.1 is now available for all clients!
The first major release of Virtuo MIS in 2019 includes more than 40 new features and enhancements for the Human Capital Management, Accounts Receivable, Finance Management, Supply Chain Management, and Systems Management suites and modules.
More than 40 new features and enhancements!
Notable updates include:
All new Employee Self Service application to support all browsers
Employee Self Service new features include customized pay stubs, time off request notifications, time off import to payroll, and view timesheets
Flat dollar deposit now included in net pay
Employee search by group code T4/T4A parser included in Statutory Reporting
Benefits Grid can apply group defaults
Finance Management & Supply Chain Management
For all areas within the Finance Management and Supply Chain Management Suites where documents can be attached, in addition to browsing and selecting a document or using drag and drop functionality, users can now directly scan and attach a document.
An EDI 810 invoice copy for users to Preview, Print, Export or Add to Documents tab.
New setup options for user-defined Work Queues that process charges coming from an HL7 interface
New Work Queue Audit Trail report to augment the process.

** For all users of Employee Self Service**
NOTE: Please refer to the Release Notes Introduction before beginning the upgrade process, for important install information.

Click on the link below to learn more about Virtuo MIS and request a demo.